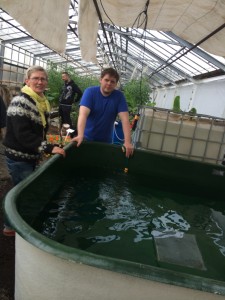 COST Action FA1305 is offering 20 places on the training school 2 Essential Aquaponics to be held at University of Ljubljana, Biotechnical faculty, Slovenia 15 – 19 June 2015. Successful applicants will be offered a maximum grant of €1200 as a contribution towards the costs of travel, accommodation and meals. The deadline for applications is May 25th 2015, see information sheet.
The training school will be delivered by dr. Vesna Miličić, University of Ljubljana, Mr Matej
Leskovec, Ponika Company, Mrs. Urška Kleč, Biotechnical centre Naklo, Mr Michael Adrian Barnes, Desert Aquaponic Company, dr. Tom Beyers, Provinciaal Proefcentrum voor de Groenteteelt OostVlaanderen and Mr. Rob van de Ven, LandIng Aquaculture. The lectures and practical classes will be mainly conducted at the University of Ljubljana and Biotechnical centre Naklo in their Experimental Aquaponic Unit located at the Biotechnical Centre Naklo experimental station.